Heritage, Artistic, Luxurious, Poise

Old World Charm – New World Luxe
Located in George Town city center, Penaga Hotel is a restored heritage boutique hotel.
We are dedicating to offer enhanced stay experience to our guests.
BUILDING
Hotel Penaga was originally a three row, double storey building with terraced houses and shophouses, but after being bought it has been renovated tastefully into a luxury boutique hotel in GeorgeTown, Penang.
UNIQUENESS
In today's fast paced world full of massive advancements in technologies you will appreciate the uniqueness of the products and services that Hotel Penaga features, especially while you are on the road.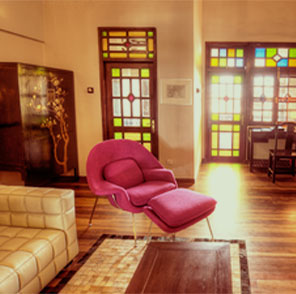 STYLES
This hotel features a total of forty-five rooms which come in four different styles. Hutton Rooms is the most popular styles of room in the hotel as it offers the best of Hotel Penaga at the most affordable price.
Our Room Type

Hutton Deluxe
The Best Of Hotel Penaga
Hutton Rooms
Overlay at restored timber floor, our Hutton Deluxe Rooms are reconstructed with Chinese and Nyonya antique furniture. Comfortably welcoming our guests at around 35 square meters and with individual art works from emerging or established artists. Each Hutton Deluxe Room is fitted with separate shower cubicle and Jacuzzi tub.
Air-conditioning
Complimentary Welcome Minibar
Chinese and Nyonya style antique furniture
Sofa seat
Separate shower cubicle
Jacuzzi bath tub
Bathrobes
Daily newspaper upon request
Hair dryer
Clarke Terraces
Indulge Your Family with Opulent Comfort
Clarke Terraces
Clarke Terraces is a whole terrace house with double storey, which serves as better option for family who seek for upgraded experience and privacy. Entering from the traditional double layer doors into the main room, it is floored with encaustic tiles. Clarke Terrace is furnished with antiques, classic modern pieces, and stunning works of art.
Ground floor is living area that fitted with sofa seat, individual art works, and bar area. Coffee machine is provided in the room. Extended with private terrace, our guests loves to pamper themselves by soaking in the private Jacuzzi tab that overlooking the garden.
The two bedrooms has individual bathroom and one balcony are located at upper floor that accessible by staircase. First room comes with Queen Bed and second room comes with two Single Beds.
Room Rate Starting from RM 850
Large living room with heritage features & bar
Two bedrooms, and two bathrooms one of which has a stunning double shower
Daily housekeeping
24 Hour Reception
Air-Conditioning
Antique cabinets, benches and chairs
Mid 20th century classic furniture
Cable television
Coffee machine
Daily newspaper upon request
Hair dryer
Welcome mini-bar
Room safes
Telephone
Toiletries
Garden jacuzzi
Private garden
Transfer Suites
View Penang Hill From Top Floor
Transfer Suites
There are total of eight Transfer Suites located above the Spa, four which feature balconies and four without. Transfer Suite's floor areas range between 60 and 70 square meters. Each offers a sitting room, a large bedroom tastefully decorated, and bathroom with a Jacuzzi bath and separate shower.
Those on the top floor have two balconies, at the front looking towards Penang Hill, and at the back over the garden. The suites are accessible only by stairs, with the double balcony rooms being two flights of stairs up, but are well worth the climb.
Room Rate starting from RM600
Sitting room, large bathroom with Jacuzzi spa bath and huge bedroom
Access via single floor staircase
Toiletries
Daily housekeeping
24 hour Reception
Air-Conditioning
Antique cabinets, benches and chairs
Mid 20th century classic furniture
Cable television
Daily newspaper upon request
Hair dryer
Welcome mini-bar
Room safe
Telephone
Toiletries
Sitting room with sun deck balcony and view to Penang Hill, huge bedroom with a smaller balcony opening onto the garden view
Access via staircases going up two levels
Bathroom with Jacuzzi spa bath
Notes: Extra bed/roll away bed is available for only selected Transfer Suites. Please request Add-on when booking is made.
Penaga Suites
No 'Stairs' Family Suites
Penaga Suites
Penaga Suite is a corner unit on the 1st Floor with a larger area of 60 square meters, which accommodates two bedrooms, two bathrooms, and a sitting room. This suite is ideal for families that do not want to deal with stairs. Additionally bathroom offers a Jacuzzi spa bath.
Starting from RM 720
Daily housekeeping services
24 hour Reception available
Air-Conditioning
Antique cabinets, benches and chairs
Cable television
Coffee and tea maker
Daily newspaper upon request
Hair dryer
Mid 20th century classic furniture
Welcome mini-bar
Room safe
Telephone
Toiletries
Notes: Extra beds are not available for the Penaga Suite.